Wedding Hair & Accessories Inspiration with 15 of our favourite Bridal Hair ideas including stunning wedding day hairstyles and accessories including Bridal Tiaras, Crowns, Hair Combs, Headpieces, and Veils, all guaranteed to make heads turn.
1. Straight to the Point
For an elegant look, straight hair is simply stunning. To keep hair looking polished, sleek and shiny all day, use AVEDA Brilliant™ Spray-On Shine for glossy shine and no frizz. Pair your perfectly straight locks with a lace embellished, beaded or embroidered dress, or opt for a simpler gown and add a small tiara, headband or comb for a touch of sparkle.
Brilliant™ Spray-On Shine | AVEDA

2. Sleek Ponytail
A high curly ponytail looks so elegant when paired with chandelier earrings, add even more glamour with smokey eyes, glossy lips and dark nail polish, we love Deborah Lippmann Dark Side of The Moon. For the ultra-stylish, modern bride, a sleek ponytail is a perfect day-to-night look, pair with a fit-and-flare gown for sophisticated drama.
Dark Side of The Moon Nail Polish | DEBORAH LIPPMAN
3. Cascading Curls
A romantic and feminine wedding day hairstyle that's perfect for long hair. Curls can also be side-swept, cascading down the shoulder for that ultra-glamorous, red carpet look. Accessorize with a bridal comb, headpiece, or some pretty hairpins. Achieve a natural, tousled look with the ghd curve® creative curl wand.
ghd curve® creative curl wand | ghd
4. Wedding Braids
Intricate Braids look beautiful whether part of a fancy updo or a classic French plait. We love the combination of the crown 'milkmaid' braid and side plait above, perfect for your special day. Don't get caught up with it being all neat and tidy, less is definitely more here, try the Redken Get The Look Duo – Boho Braid, perfect for adding texture and volume.
Redken Get The Look Duo – Boho Braid | LOOK FANTASTIC
5. Top Knot
A Top Knot with perfectly complement a long, fitted dress or detailed gown with an intricate back panel. Perfect for keeping you cool and letting your dress do the talking. Soften the look with sections of hair around the face, natural makeup, and a floral comb or hairpin. We love the Luisa Flower and Leaves Hair Comb by LOLA & ALICE.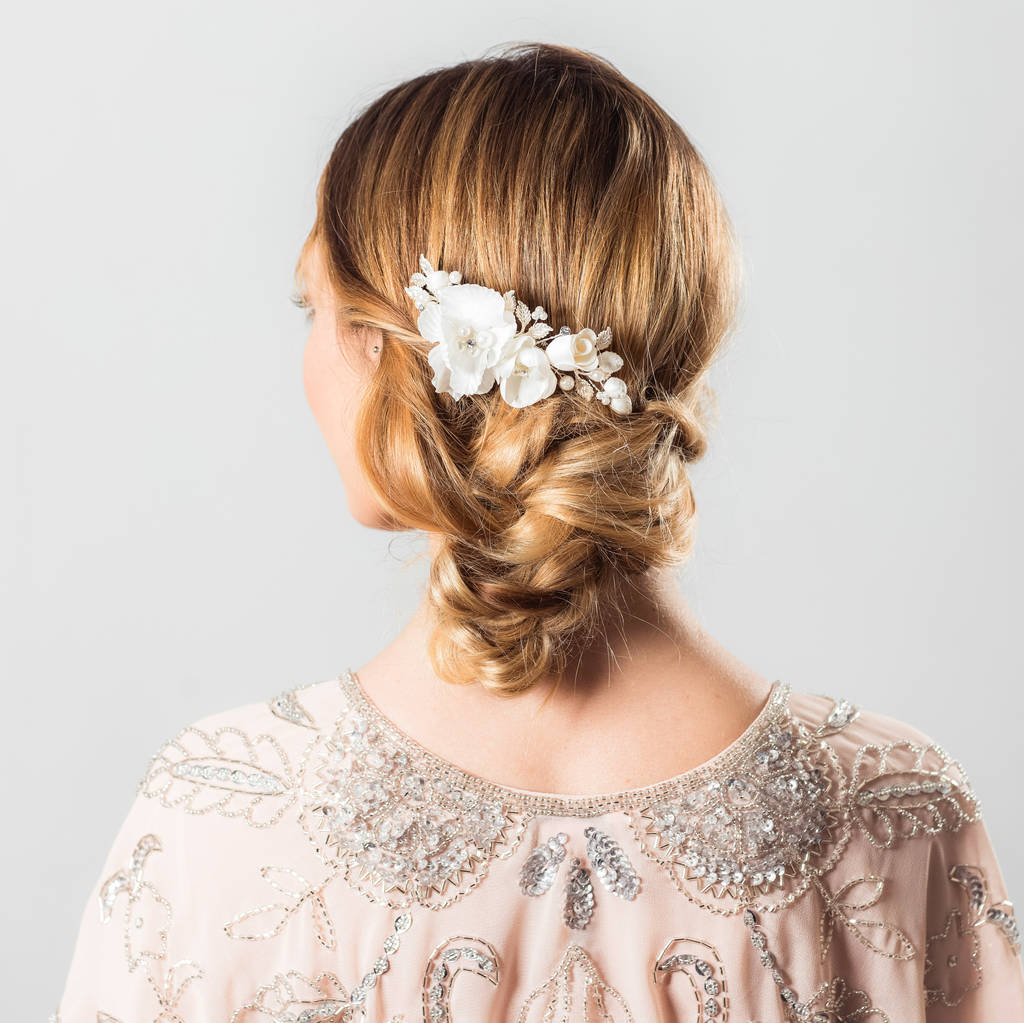 Luisa Flower and Leaves Hair Comb | LOLA & ALICE
6. Curly Updo
The Curly Updo features soft, loose waves, not too neat, perfect for naturally curly hair. Pair with some drop earrings and adorn with a sparkly hair comb or hairpins. We love the Large Swarovski Crystal Wedding Hair Pins Maisie by Debbie Carlise.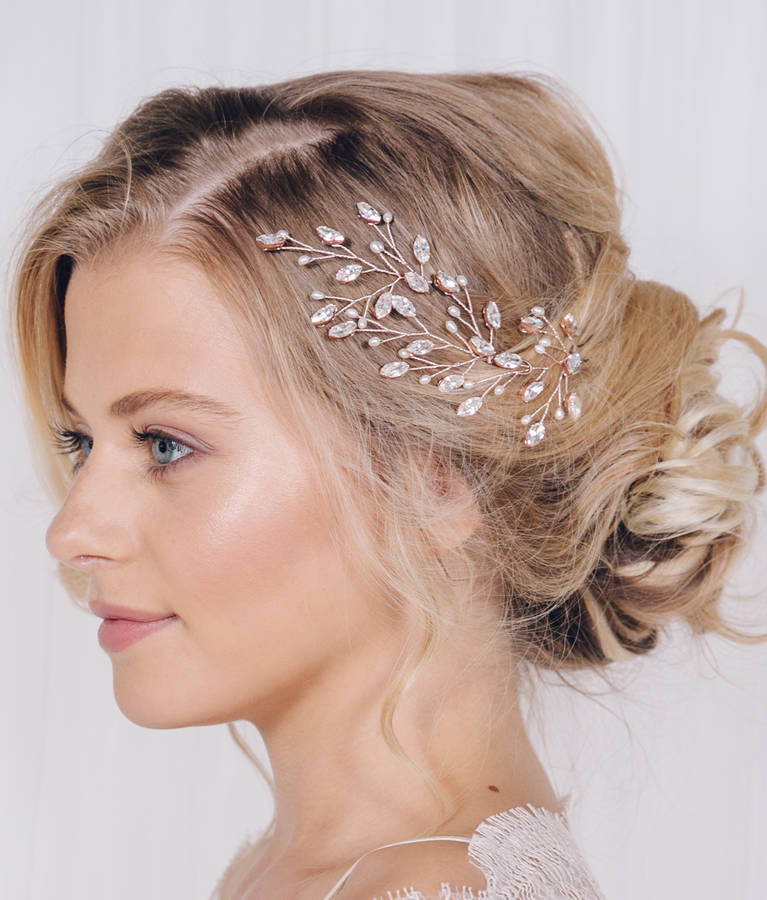 Large Swarovski Crystal Wedding Hair Pins Maisie | DEBBIE CARLISE
7. Chignon Bun
Chignon is the French term for a bun. A Chignon bun is a classic and surprisingly simple hairstyle to achieve. Worn low at the nape of the neck, the Chignon bun hairstyle works particularly well with strapless gowns and wedding dresses with intricate lace-up backs. Accessorise with a pair of drop earrings, we adore these Vintage Diamond Earrings, created by prestigious Hollywood designer Neil Lane, available from Ernest Jones.
Neil Lane Designs 0.15ct Vintage Diamond Earrings | ERNEST JONES
8. Vintage Waves
1920s vintage style finger waves work well with both long and short hair. Combine with pearl jewellery and hairpins for a flapper-inspired bridal look. Why not go all out by choosing a Great Gatsby Theme and make your wedding a fabulous glittering soiree! For the jewellery, we absolutely love this vintage-inspired Rhinestone Flower Three String Pearl Necklace by Katherine Swaine, available from Notonthehighstreet.com
Rhinestone Flower Three String Pearl Necklace | KATHERINE SWAINE
9. Feather Fascinator
Feathery accessories add softness and will complement any colour scheme. For contrast team with dark eye makeup and lipstick, our pick is Chanel Coco Rouge Ultra Hydrating Lip Colour in shade 446 Etienne. Want to make an entrance, add a splash of colour with a Peacock Feather Fascinator, think Carrie Bradshaw in Sex in the City! and tie the whole look together with ostrich feather table centrepieces for a truly opulent setting.
Chanel Coco Rouge Ultra Hydrating Lip Colour 446 Etienne | JOHN LEWIS
10. Birdcage Veil
For a classic vintage look, the birdcage veil dates back as far as the 1940s. Today it is seen as a chic alternative to a traditional veil. Most birdcage veils come as a 2 part set, with netting and a brooch, fascinator or headband, so the veil can be removed easily during the day. The Birdcage Veil is perfect for all hair lengths and styles. You will find a gorgeous choice of Birdcage Veil Couture on notonthehighstreet, we love the Violet Floral Birdcage Veil Headpiece by Modiste Accessories with Swarovski pearls and crystals.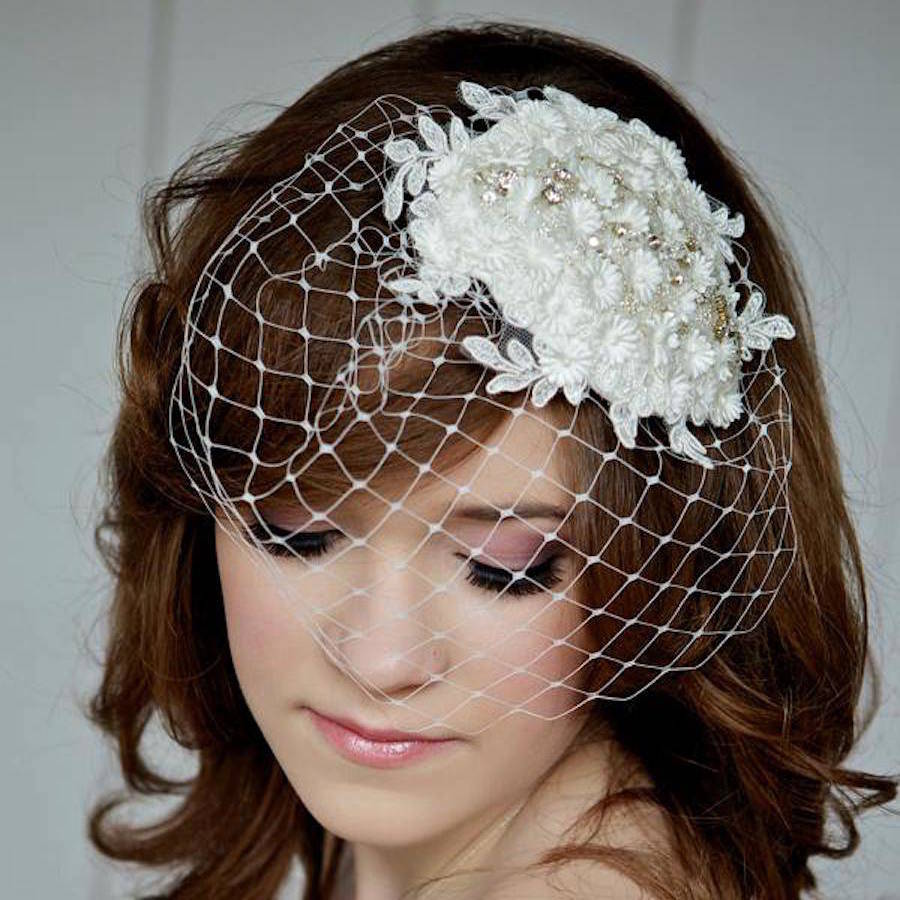 Violet Floral Birdcage Veil Headpiece | MODISTE ACCESSORIES
11. Flower Crown
A pretty flower crown or floral halo instantly creates the perfect look for the Boho Bride. Romantic and whimsical, choose from an oversized statement wreath to more delicate garlands. A Flower Crown is so easy to wear, pair with loose flowing curls, pastel eye makeup and minimal jewellery. For something extra special, take a look at the Rose and Foliage Flower Crown by Stephanieverafter made from luxury artificial flowers with a pretty ribbon fastening.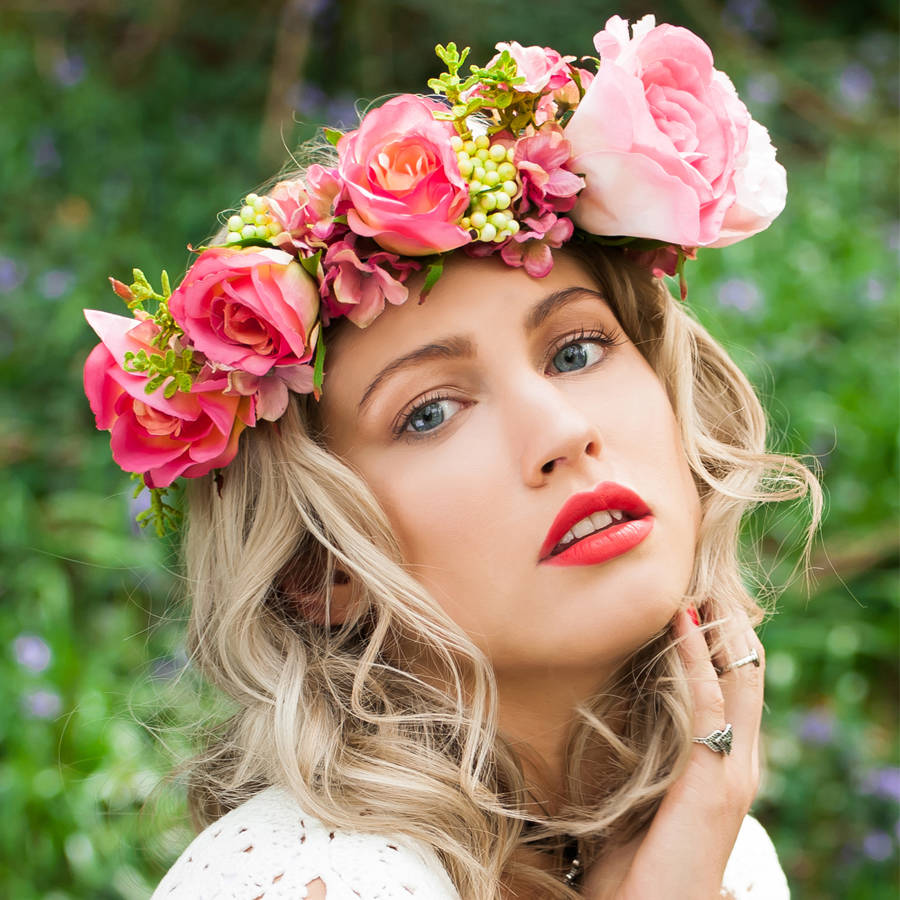 Rose and Foliage Flower Crown | STEPHANIEVERAFTER
12. Head Chain Jewellery
Feel like a Goddess on your big day with a distinctive, Indian-inspired bridal headpiece. Perfect with hair worn just off the face in an updo, or with soft flowing curls. To perfect the look choose your jewellery to match with pearls, crystals or diamonds. looking for something truly special for your big day? You'll simply adore the Bridal Headchain The Clea with Swarovski crystals created by award-winning Mia Monica Bridal Couture.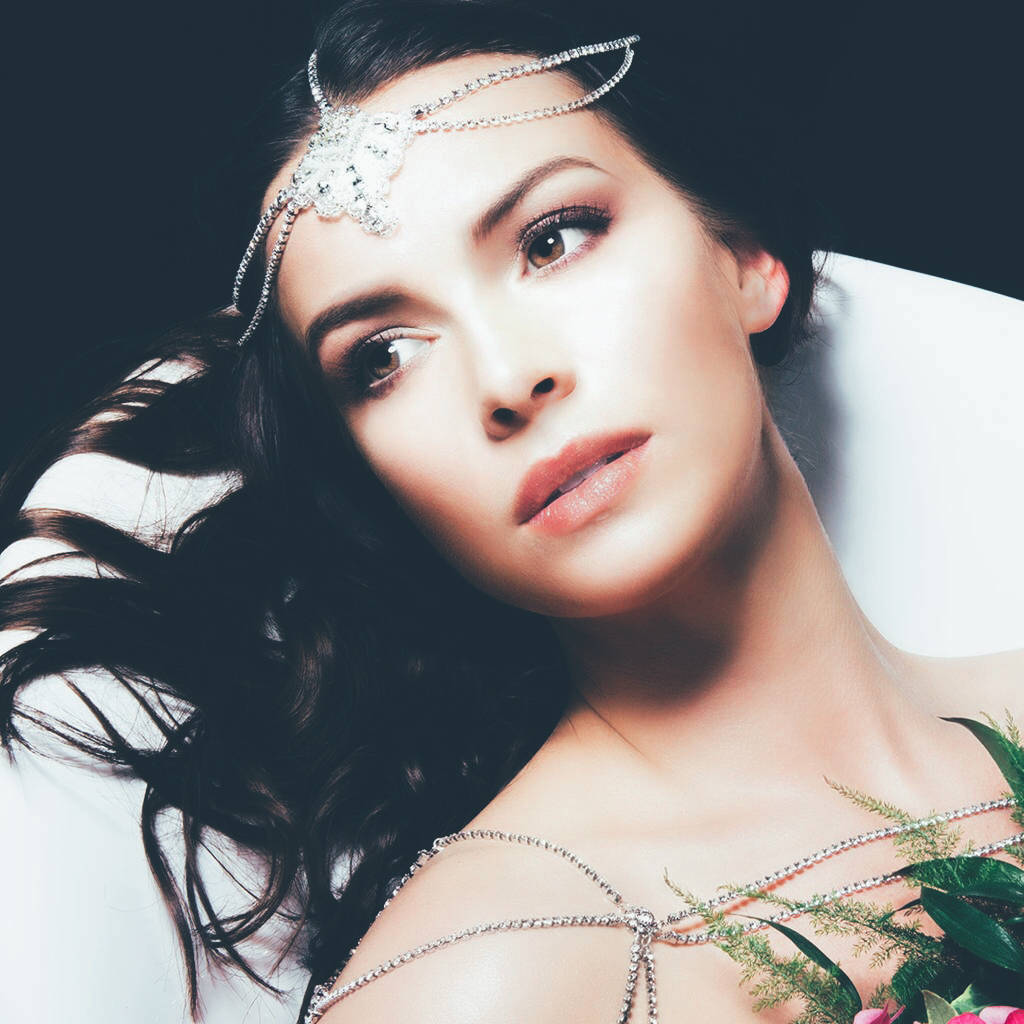 Bridal Headchain The Clea | MIA MONICA
13. Wedding Tiara
A traditional wedding Tiara allows you to be the centre of attention, formally crowning you as queen for the day. Accessorise with matching jewellery and big bouncy curls for full-on dazzling glamour. Browse the extensive range of wedding tiaras, headpieces, and matching jewellery available from LOLA & ALICE, we love the stunning Rochelle Crystal And Silver Tiara, a statement piece that you are sure to treasure forever.
Rochelle Crystal And Silver Tiara | LOLA & ALICE
14. Traditional Veil
A traditional wedding veil frames the face beautifully and adds a touch of mystery and intrigue as you walk down the aisle. There are many options when it comes to veils, length, material, colour, tiers, edging. The no.1 rule is that the veil complements the dress. Pick out details such as pearls, lace, crystals, etc, and tie it all together to complete your bridal suite. We love the Lace Edge Two Tier Wedding Veil by Britten.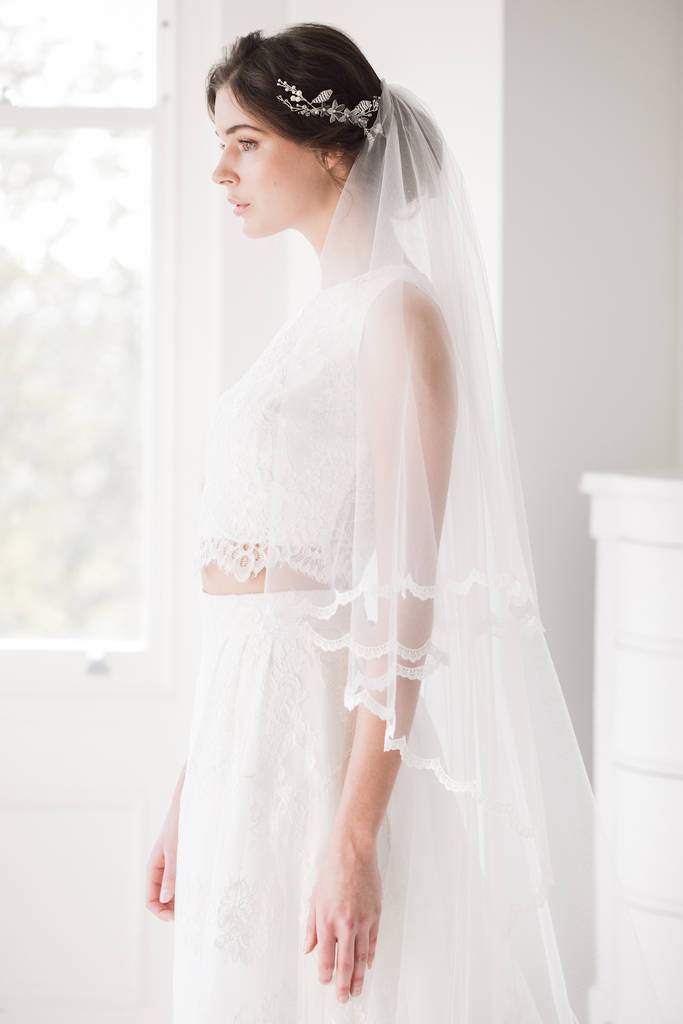 Lace Edge Two Tier Wedding Veil | BRITTEN
15. Bridal Hat
For old school Hollywood glamour, go for a modern shape bridal cocktail hat. Looking for something a little different? A mad hatter style mini top hat can be playful and expressive. For vintage sophistication why not choose a Victorian-style top hat with a birdcage veil, think Lady Mary Crawley in Downton Abbey. We love this truly unique Bridal Feather Cocktail Hat with Net Veil by Sahar Millinery, available from Notonthehighstreet.com.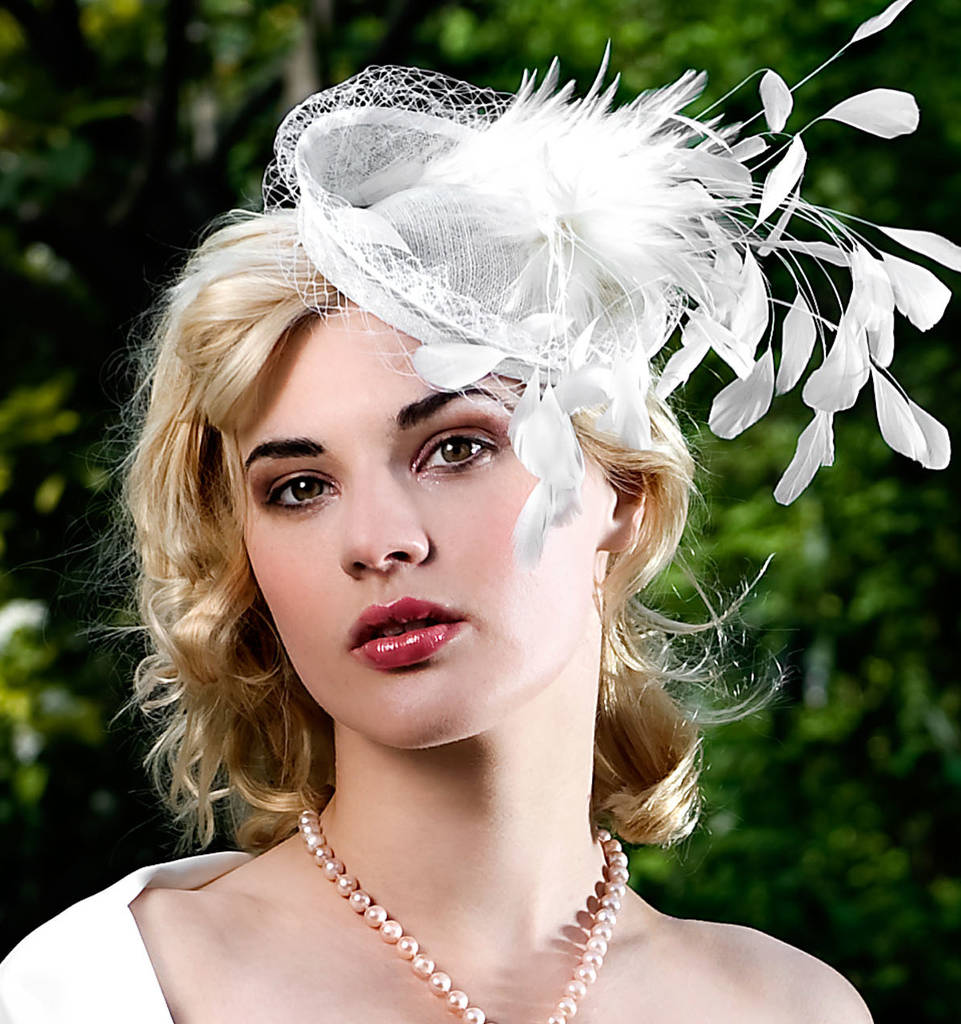 Bridal Feather Cocktail Hat with Net Veil | SAHAR MILLINERY
For more bridal hat inspiration take a look at the stunning collection by London's Couture millinery label Sahar Millinery at Notonthehighstreet.com