Wedding, Party and Special Occasion Bunting will add a touch of colour and charm to your venue, instantly transforming a room or outside space. Using quality fabrics and unique patterns to create their beautiful bunting collection Baloolah Bunting specialises in stylish laser cut bunting, designed and meticulously handmade in the UK.
Party Venue Bunting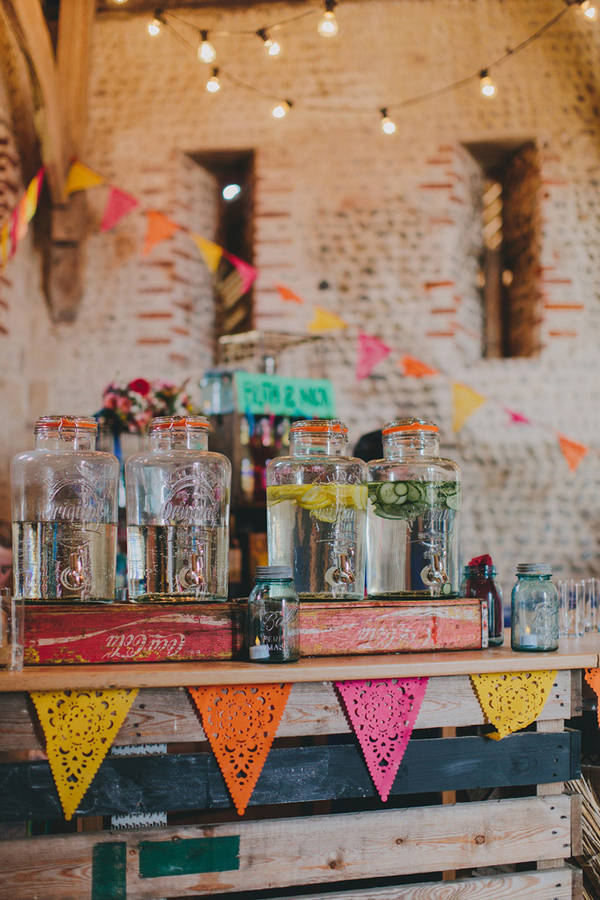 Baloolah Bunting offers a range of bunting including original bunting, mini bunting and personalised bunting, suitable for any special occasion including weddings, birthdays, christenings, bridal showers, house warmings, anniversaries and garden parties.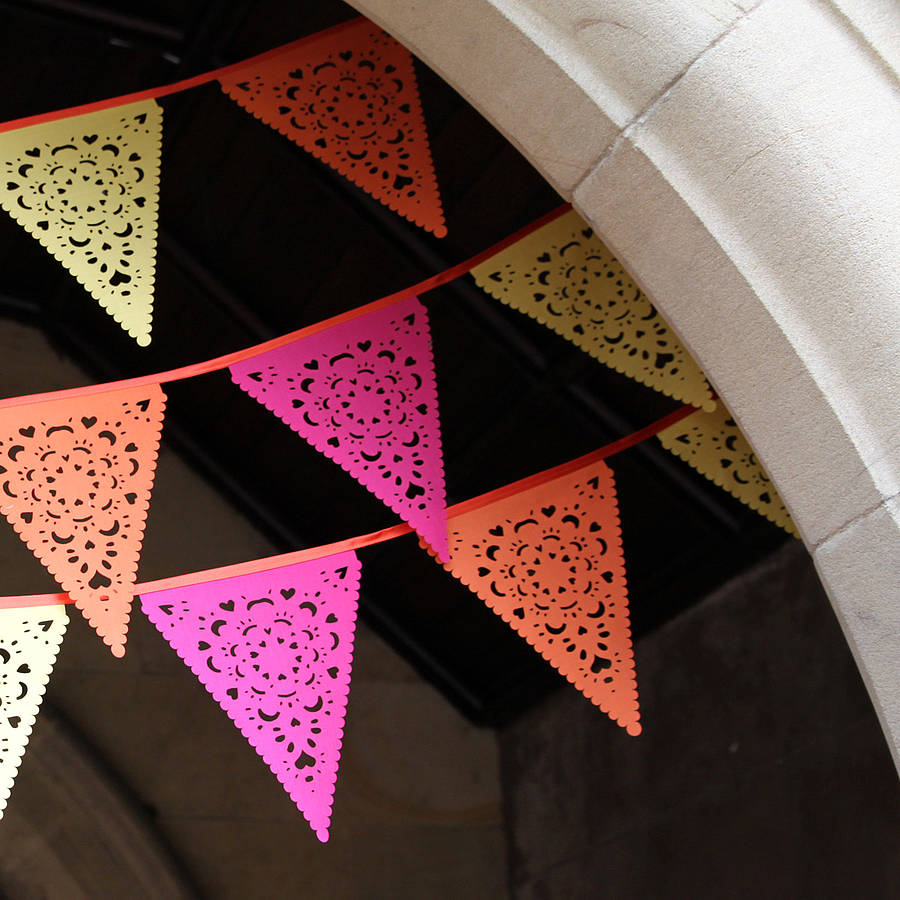 Garden Party Bunting
Bunting is perfect for decorating an outdoor party venue and has never been so popular. It couldn't be easier to embrace the summer garden party theme. Along with your bunting, set the scene with outdoor party decorations such as garlands, lights & lanterns and stylish tableware. As the evening draws in accessorize outdoor furniture with soft furnishings such as faux fur cushions and throws. To create subtle light and warmth, randomly dot scented candles, oil torches, and drape twinkling fairy lights around trees.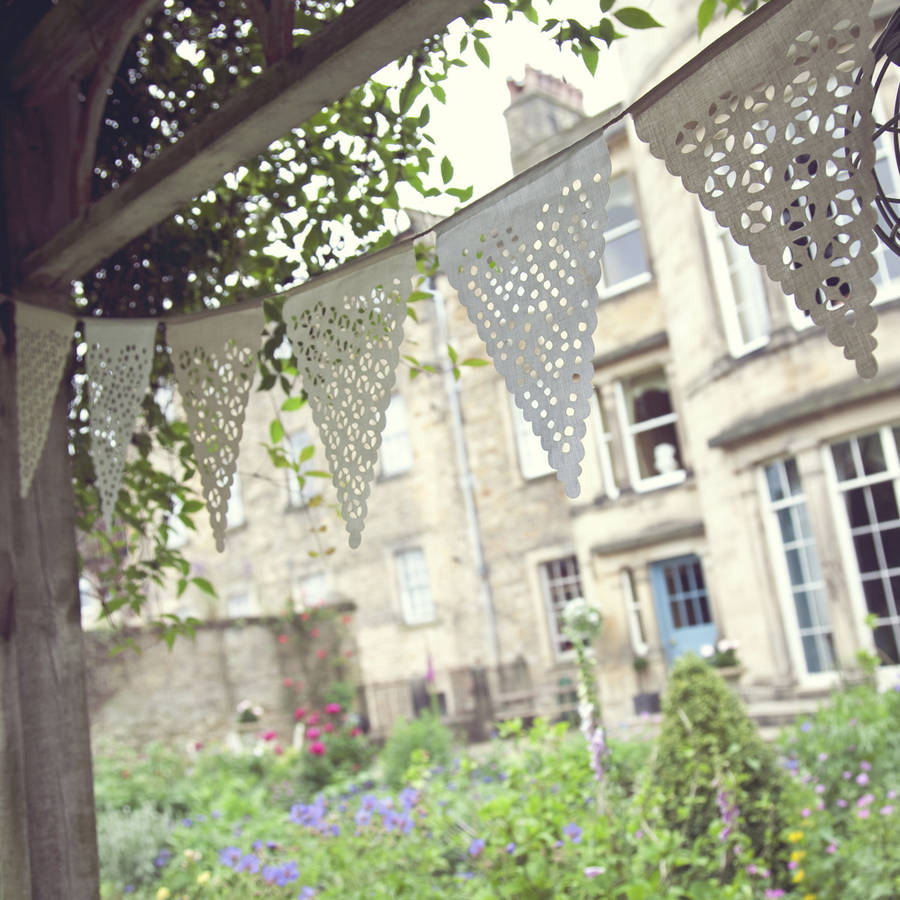 Proving that bunting is not just for special occasions, these neutral strings can be enjoyed all year round, anywhere around the home. As well as outdoors, bunting can look very pretty indoors, providing that homely, country cottage look and feel. These contemporary bunting strings would also make an adorable addition to a child's playroom or nursery and look cute randomly draped around or hanging over the entrance to their play tent or den.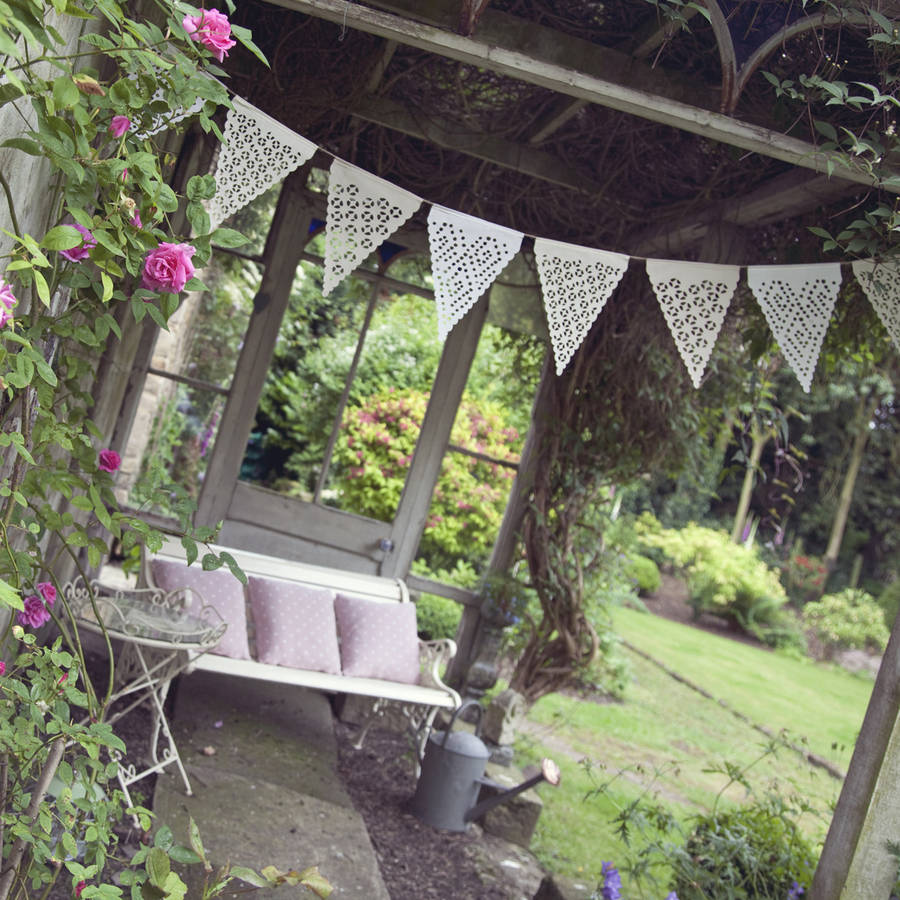 Wedding Bunting
Wedding Bunting will make a great addition to your wedding or reception venue, drape over an entrance to informally welcome your guests, for a more dramatic look hang from each corner of a room and gather at the centre, or for a personal touch place around the front of the wedding top table and guests tables to tie the whole look together.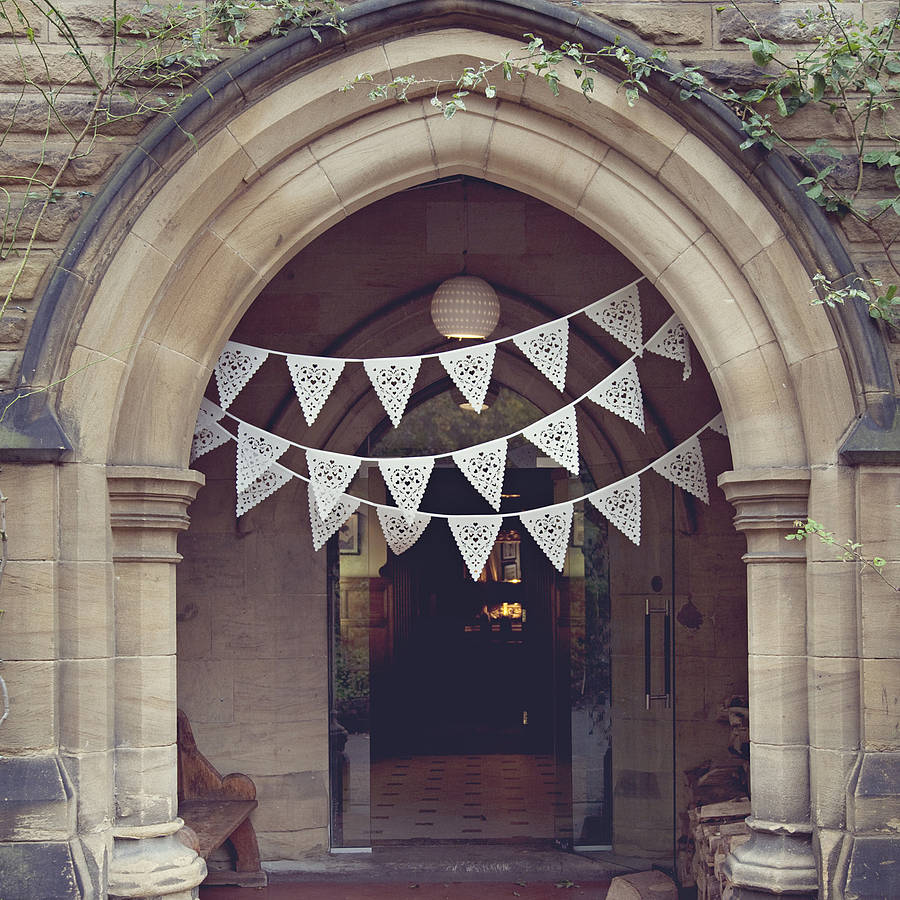 Bunting can also make the perfect wedding gift for a couple to enjoy on their special day, as a whimsical addition to their outdoor wedding decorations. These charming made-up strings are a wonderful alternative to traditional hanging decorations and garlands, and their classic and timeless designs mean that they can be enjoyed for many years to come.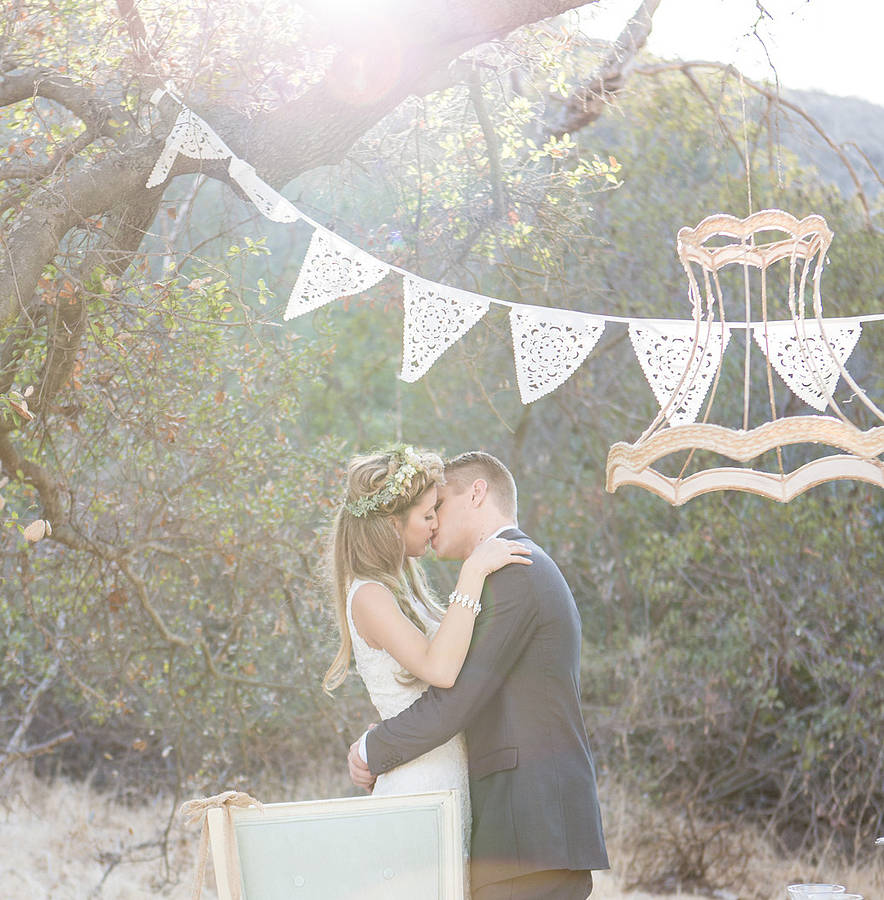 Personalised Wedding Bunting
Looking for something extra special bespoke wedding bunting can be made to order and each string personalised with the initials of the bride and groom, Making it a wonderful keepsake to place in your home as a lasting memory of your special day.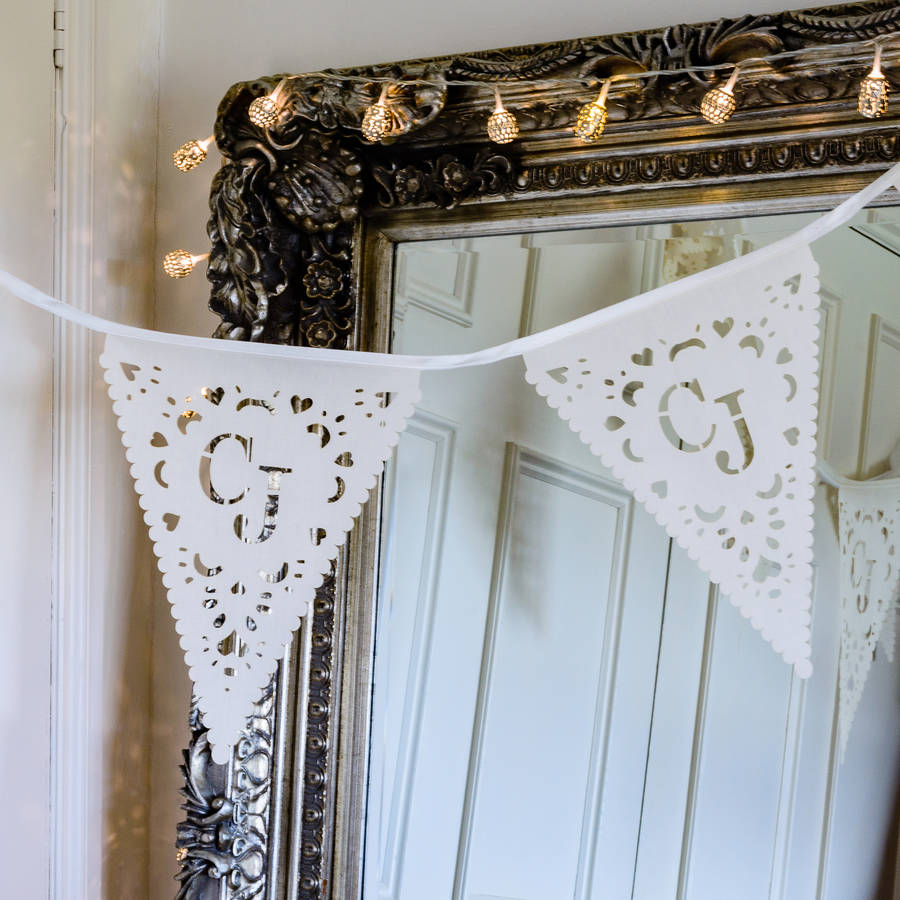 Wedding Cake Bunting
Bespoke wedding cake bunting is an unusual decoration for your cake and makes a delightful alternative to a traditional wedding cake topper. When it is time for the cutting of the cake wedding cake bunting adds a definite wow factor. To complete the look coordinate your wedding cake bunting with other venue decorations.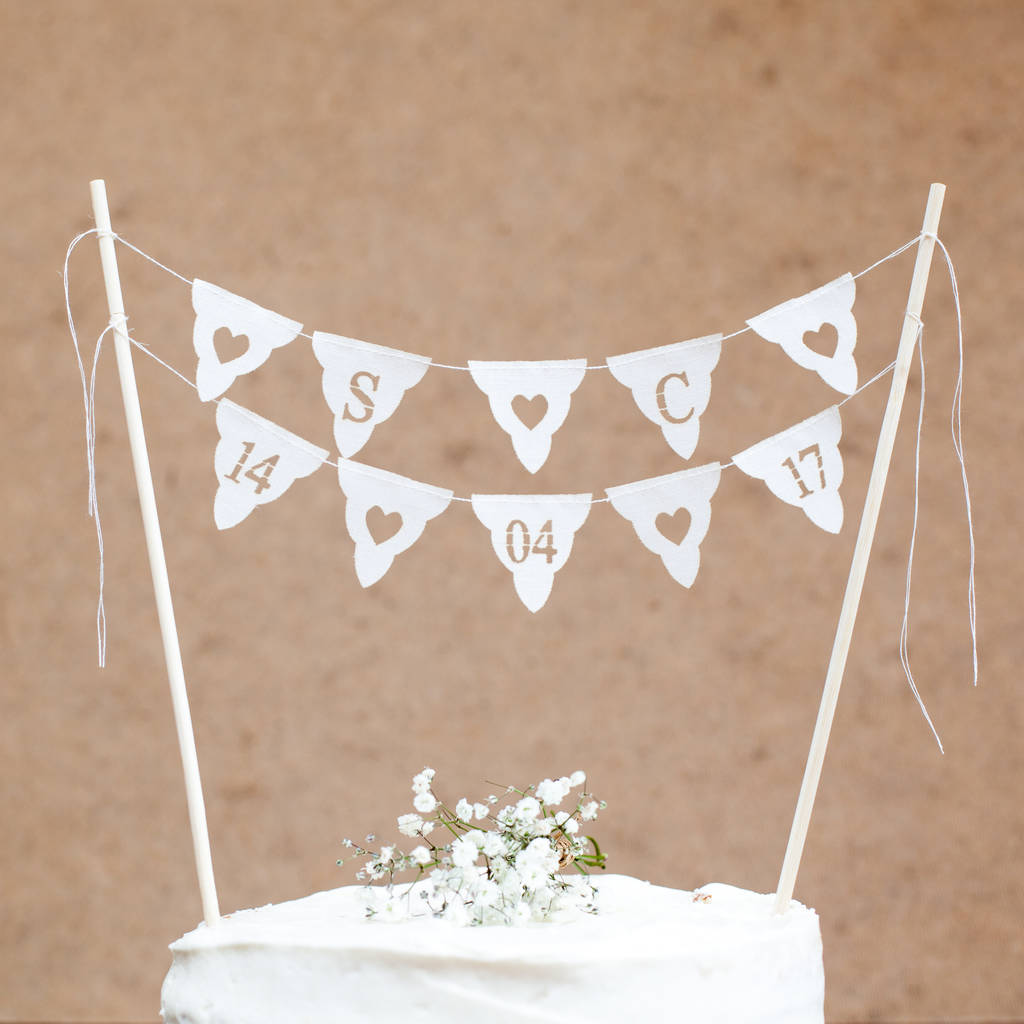 Personalised mini bunting gives that artisan wedding look and feel, whilst the use of quality materials ensures a simple yet stylish way to finish your wedding cake. As well as traditional cotton flag bunting, Baloolah Bunting also offers hessian bunting and unique shaped bunting such as doily style and fringed bunting, in both ivory and white.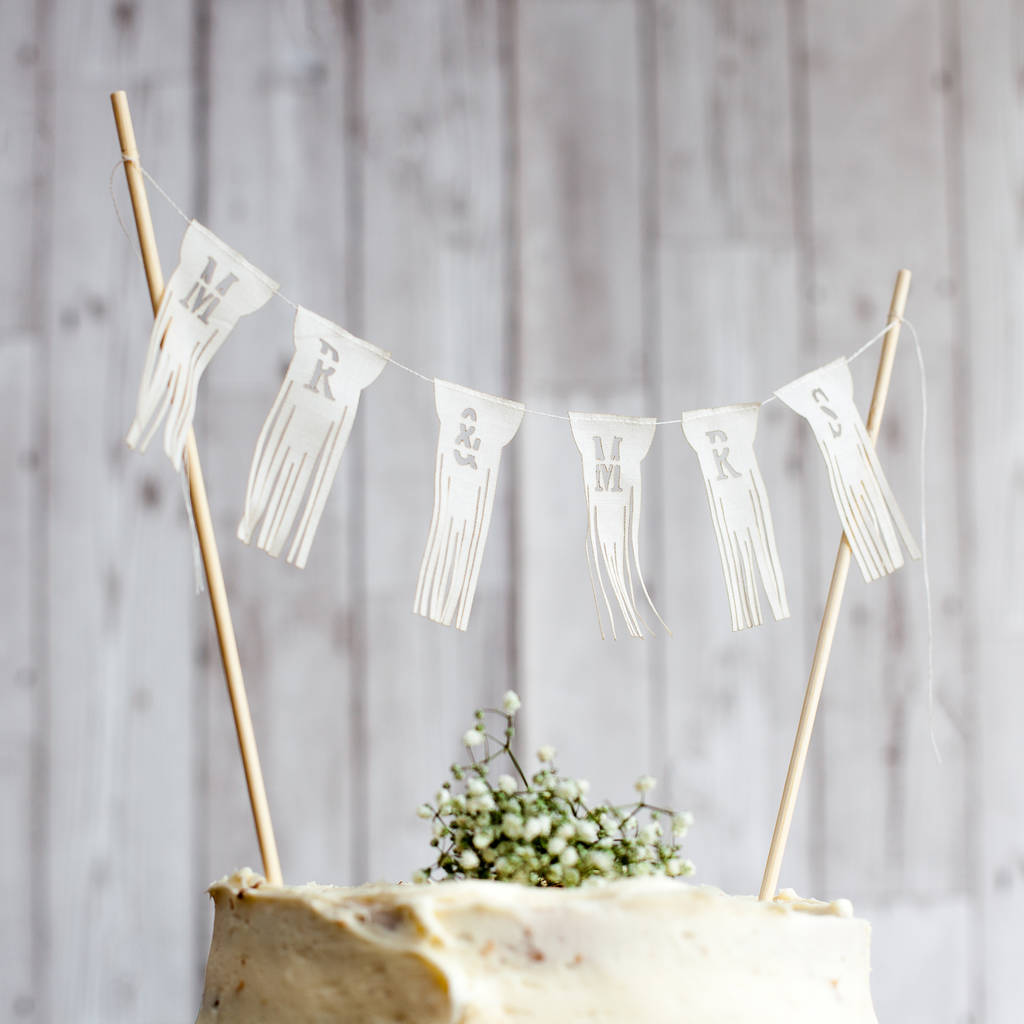 For more information and to shop online, Visit: notonthehighstreet.com/baloolahbunting