Wheatgrass juice is a health elixir that more and more people are beginning to discover. Introduced to the world by the hippies of the '60s, it is now making a comeback. With our love of fresh juices and superfoods unwavering, even Starbucks has added Wheatgrass to their product range, which indicates Wheatgrass Juice has once again hit the mainstream.
What is Wheatgrass Juice?
Wheatgrass juice is extracted from the earliest possible harvest of wheat sprouts, the exact same seeds bakers obsess about. This renders a dark green powerful liquid which helps rejuvenate body tissue more efficiently than any other fruit or vegetable extract.
What Health Benefits does Wheatgrass Juice contain?
Twelve amino acids, including all of the eight essential amino acids (lysine, leucine, tryptophan, methionine, isoleucine, valine, threonine and phenylalanine. This is important, because our body cannot generate these amino acids spontaneously and we must therefore obtain them through our nutrition.
Vitamins A, B and E;
Cleansing, healing properties for the intestinal tract.
Plenty of chlorophyll, which is almost identical in it's molecular structure to haemoglobin, which explains why oygen levels in the blood increase dramatically when you ingest wheatgrass juice.
Wheatgrass helps reduce skin problems and fights eczema, acne and psoriasis.
How does Wheatgrass Juice make you feel?
People who regularly drink wheatgrass juice will notice an increase in their energy levels. The same feeling that you have when you have spent an entire summer relaxing and eating salad after salad, green after green; a state of natural health. With the only difference that wheatgrass delivers this feeling almost immediately; the body absorbs wheatgrass juice in under twenty minutes. In other words – it is a predigested food. Some people report extra energy levels that add up to two hours to their active day.
What does Wheatgrass look like?
Wheatgrass looks just like the grass on your front lawn, but probably longer. You harvest a shoot of wheatgrass ideally when it is of pencil length. Bizarrely though, wheatgrass and ordinary grass are quite close family relations. This is a little fact that will hopefully serve to prepare you for the taste of wheatgrass juice, because it tastes just like you would imagine ordinary grass to taste and smells like a freshly mowed lawn. As for the nutrition side of things – the calories are negligible, but wheatgrass is nevertheless highly nutritious and falls within our definition of a 'complete food'.
How to begin drinking Wheatgrass
People who do not have a masticating slow juicer to extract the juice can simply head out to the local juicebar. Try a 15 to 20 ml shot. How you know whether it works for you is by checking on your energy levels. They will begin to rise noticeably only after about three days. So go back to the juicebar three times at the very least to see if it makes sense for you to invest in your own juicer.
Wheatgrass Products
Conveniently there are now many other Wheatgrass products available including vitamins, supplements, satchets, powders etc, so you can include it in your diet easily. Want a completely hassle free way of including fresh Wheatgrass in your diet, take a look at THINK Press's Juice Cleansing Programmes available through Notonthehighstreet.com, their Ultimate Green Juice includes Wheatgrass, Spinach, Cucumber, Celery, Pear, Parsley and Lemon, best of all they are delivered to your door, what could be easier than that?!

THINK Press Three Day Lightening Juice Cleanse
Notonthehighstreet.com, £95.00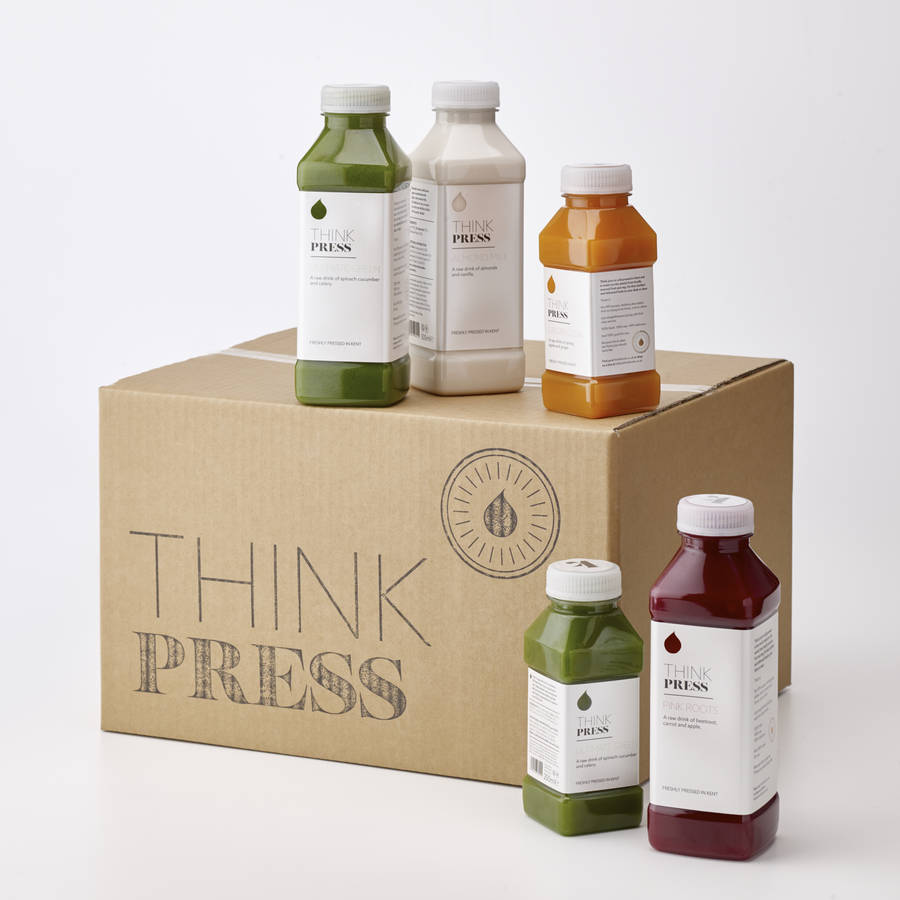 THINK Press Six Month Cold Pressed Juice Subscription

Notonthehighstreet.com, £180.00
Bioglan Superfoods Raaw Juice Go Green Sachets
Holland & Barrett, £9.99 (7 x 7g sachets)
Wheatgrass Powder
The Protein Works, £8.99 (250g)
Bioglan Superfoods Wheatgrass Powder 100g
Holland & Barrett, £9.99 (100g)
Bioglan Skinny Greens 7 Day Superfood Cleanse 70g
Holland & Barrett, £17.99 (70g)
Rabenhorst Wheatgrass Cocktail 750ml
Holland & Barrett, £4.29
Super Nature Daily Food Topper for Super Health and Immunity 100g
Holland & Barrett, £19.99
Inspiral Kale Crisps Wasabi & Wheatgrass 30g
Holland & Barrett, £1.99